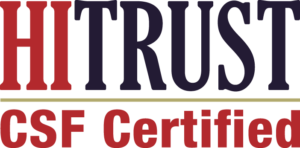 HITRUST Certification validates Agadia is committed to meeting key healthcare regulations and protecting sensitive private healthcare information
PARSIPPANY, N.J., April 12, 2017 /PRNewswire/ — Agadia Systems, Inc. (Agadia), a leader in utilization management solutions leveraged by the nation's largest Health Plans and PBMs, today announced that Agadia has earned Certified status for information security by the Health Information Trust (HITRUST) Alliance. With the HITRUST CSF Certified Status, Agadia's Prior Authorization solution, PAHub, meets key healthcare regulations and requirements for protecting and securing sensitive private healthcare information.
HITRUST CSF Certified status indicates that PAHub has met industry-defined requirements and is appropriately managing risk, and places Agadia in an elite group of organizations worldwide that have earned this certification. By including federal and state regulations, standards and frameworks, and incorporating a risk-based approach, the HITRUST CSF helps organizations address these challenges through a comprehensive and flexible framework of prescriptive and scalable security controls.
"Health Plans and PBMs are under great pressure to meet complex compliance requirements that include technical and process elements such as HIPAA, NIST, ISO and COBIT. At Agadia, our historic ability to adhere to these guidelines is a source of great pride for us. This certification further validates our efforts and demonstrates our commitment to meet the gold-standard in safeguarding PHI." – Scot Lovejoy, Chief Pharmacy Office & Chief Privacy Officer, Agadia.
"HITRUST has been working with the industry to ensure the appropriate information protection requirements are met when sensitive health information is accessed or stored in a cloud environment. By taking the steps necessary to obtain HITRUST CSF Certified status, Agadia is distinguished as an organization that people can count on to keep their information safe." – Ken Vander Wal, Chief Compliance Officer, HITRUST.
About Agadia
Agadia is a leading healthcare technology company addressing the evolving needs of the managed care market with a suite of utilization management solutions in electronic prior authorization, MTM, part d star ratings and adherence, and formulary benefit design. Used by the nation's largest health plans and PBMs, Agadia's advanced technology solutions help drive operational efficiency, appropriate utilization, compliance, and profitability. For more information, visit www.agadia.com.